An obituary for PUK was recently published in the Guardian:
My friend Peter Bocking, who has died aged 66, lived a double life: in the UK he was revered as a jazz guitarist on the north-west beat group scene; in the US he was admired for his written contributions to the blogosphere. Neither group knew of the existence of the other.

...

Yet his wider fame rested on non-musical talents. His death was greeted with an outpouring of grief from US blog sites, where PeterUK's contributions were legendary. For example, on the Is-Barack-a-black-Lincoln? debate: "There is some European socialist in him, so perhaps he is a Lincoln Continental." PeterUK's comments have since been gathered on several sites. In a way, Bocking surpassed the Beatles' achievement: he conquered America without ever leaving his armchair.
There were a few of us Americans in the PUK blog fan club who knew of his musical prowess.
The obit also includes a new (to me) photo of PUK: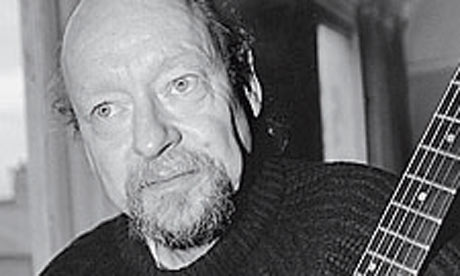 Read the whole thing -- you'll get more flavor of PUK's life.