In our last post, we drew this conclusion:
Obama: Much more unpopular than Bush
And that was based on each President's Real Clear Politics approval rating for the July of their first terms. Obama's disapproval rating was at 37.8% and Bush's was at 31%.
OK, let's cut to Rasmussen, who reports today:
The Rasmussen Reports daily Presidential Tracking Poll for Sunday shows that 32% of the nation's voters Strongly Approve of the way that Barack Obama is performing his role as President. Forty-one percent (41%) Strongly Disapprove giving Obama a Presidential Approval Index rating of -9 (see trends).

Today's update marks the highest level of Strong Disapproval for President Obama.
Here's the graph: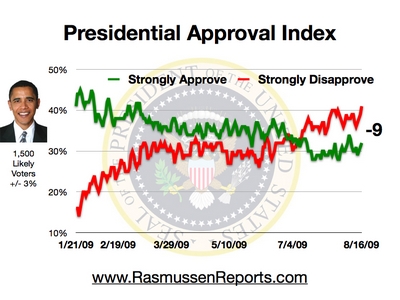 That's an alarmingly upwardly sloping red line there, isn't it? And 41%? That's sounds alarmingly high.
Well. Consider this, from Rasmussen last January, as Bush was on his way out of the White House:
In the final full month of his Presidency, just 13% of American adults said they Strongly Approved of the way that George W. Bush performed his job as president. Forty-three percent (43%) Strongly Disapproved.
At the end of eight years, Bush's Strongly Disapprove number was just 2% worse than Obama's is right now, at the beginning of just his eighth month in office.
Yikes! Obama is operating with ruthless efficiency.
So while our statement above is correct, insofar as when comparing Obama and Bush at the same point in their presidencies, Obama is much more unpopular than Bush was, it is NOT correct to claim that Obama now is much more unpopular than Bush was when he left office.
Therefore, in this context we will revise our wording:
Obama: Barely less strongly disapproved of than Bush